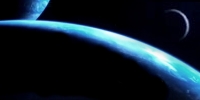 The Science Behind
James Cameron's Avatar
Heavy Metal Exoskeletal War Machines
By Adam Hadhazy
Excerpt: popularmechanics.com
[Link no longer available]

It's the year 2154 and humankind has reached out to the stars in director James Cameron's new science-fiction epic Avatar. The movie takes us to an exotic jungle moon called Pandora where humans are the aliens and a clash is brewing with the natives.

Cameron, who has served as an adviser to NASA to investigate a camera for a Mars mission, is known for taking the science in his flicks very seriously. So how did he do? Here we check on some of the movie's scientific bona fides with top researchers in their respective fields to see where artistic license and scientific plausibility meld.

Heavy Metal Exoskeletal War Machines

In Avatar: For work, combat and stomping through Pandora's rainforest, the humans gear up in Amplified Mobility Platform (AMP) suits. These armored exoskeletal vehicles are very similar to the Armored Personnel Units featured in The Matrix Revolutions and the power loader in Cameron's own Aliens, but with an enclosed cockpit.

From this perch in the machine, the movements of a human operator's arms and legs are translated to the suit's exterior limbs and "amplified." The operator swings his arm several inches, and the AMP's corresponding giant metal arm scythes a 10-foot arc.

"The super hydraulics are all very strong so [the AMP suit] can crush buildings and do all the things that, like, a tank could do," says Avatar vehicle designer Ty Ruben Ellingson in a promotional video.

The Herculean strength granted to the AMP suit's operator lets space marines tote giant 30-mm autocannons into battle as easily as one might carry a rifle. In further characterizing the AMP suit, John Rosengrant, design supervisor for Stan Winston Studios, says it is "an Apache helicopter with legs."

The Science: For decades, the U.S. military has been looking into powered exoskeleton suits that could let soldiers lug around heavy equipment—as well as bigger guns—while aiding in rescue work, construction and injury rehabilitation.

The Army's research and development branch, DARPA (Defense Advanced Research Projects Agency) issued various grants since 2000 under its Exoskeletons for Human Performance Augmentation program, including funding for the Raytheon Sarcos team.

Their machine, called XOS, weighs 150 pounds and fits around the wearer's arms, legs and back. This aluminum robot's hydraulics allow the wearer to lift 200 pounds hundreds of times without tiring, yet the XOS suit remains nimble enough to allow the man-cum-machine to climb stairs or kick a soccer ball.

The key hurdle for the Raytheon Sarcos device is independently powering it. For now, the XOS remains tethered to an external power source. Other groups at MIT, Berkeley and Honda are also devising similar machines for the lower body.

Meanwhile, Japanese researchers at a company called CYBERDYNE (a name shared by the fictional firm that creates Skynet in Cameron's Terminator franchise) have invented an Iron Man-style body cladding that aids in physical therapy, and is christened Robot Suit Hybrid Assistive Limb (HAL).

"Movies like Avatar are good to get us thinking about the possibilities," says David Audet, leader of the Soldier Mobility and Mission Enhancement Team at the Natick Soldier Research Development and Engineering Center in Massachusetts that has a point role in developing XOS.

And while there is "a lot of Hollywood going on" with the AMP suit, it suggests the immense logistical work that such devices could render and serves as, Audet says, "an example of a foundational platform that with very little modifications can perform a large suite of attacks."
The Real Science of Avatar's Sci-Tech
By Charles Q. Choi | Excerpt: space.com

The devices that give the film its name are avatars — artificial bodies the main characters operate wirelessly by thought alone.

The bodies in question resemble the native blue-skinned humanoid race, the Na'vi, although they are hybrids that incorporate the DNA of their operators.

Building a body that weaves together human and alien DNA might be far-fetched. Even if aliens have DNA, humans would probably have more in common with corn or anything else on Earth than with life on Pandora.

Still, scientists in real life are making advance after advance when it comes to brain-computer interfaces to control robot arms and type and speak through machines.

Even without brain-computer interfaces, telepresence units are now allowing surgeons to perform life-saving operations from afar.

The humans also operate AMP suits, robotic exoskeletons that mimic their drivers' moves and give them incredible strength to handle giant cannons and fight dinosaur-sized aliens.

The U.S. Army has been developing exoskeletons for years to amplify a soldier's strength using combustion engine-driven hydraulics that behave as artificial muscles.
Articles exploring Avatar's scientific and military technology. Some articles contain excerpt highlights, click on the source link for the complete article.
The Science Behind
James Cameron's Avatar
An Out-of-Body Experience
By Adam Hadhazy
Excerpt: popularmechanics.com
[Link no longer available]

In Avatar: Over the three decades since humans first arrived on Pandora and began invasive mining operations, tension has mounted with the Na'vi, who hold nature sacred. Relations between the races are further complicated because humankind cannot breathe Pandora's air.

In an attempt to reach out to the Na'vi, the Earthlings' Resources Development Administration initiates the Avatar Program to create half-human, half-Na'vi hybrids to serve as ambassadors.

By means of a sophisticated interfacing device, a human telepathically "drives" this avatar body, allowing him to experience Pandora just as the Na'vi do. Protagonist Jake Sully (actor Sam Worthington) is recruited to the program when his twin brother dies. For Jake, this tragic event does offer him a small consolation: A war injury has confined him to a wheelchair, and now, through his avatar, Jake will get to walk again.

The Science: Much research has been done on the first link in the avatar chain, which is patching biological 'wetware' into machined hardware. The goal of much of this research into brain-machine interfaces (BMIs) is indeed to afford handicapped people, like Jake, shots at mobility.

"What is in the movie [Avatar] is surprisingly similar to experiments we are actually doing right now," says Miguel Nicolelis, a neuroscientist at Duke University and lead researcher for the multinational Walk Again Project, based in Brazil. The Project is developing an exoskeletal, 'neuroprosthethic' device that fits around a paralyzed person's body and receives commands from his mind.

Last year, Nicolelis and his colleagues provided the strongest demonstration to date of this sort of arrangement. In their lab in North Carolina, the researchers trained a rhesus monkey to walk upright on a treadmill. They then took neural signals picked up by electrodes in the monkey's brain and sent them over the Internet along with video to a lab in Japan where a robot synchronized its motions with the monkey's gait. "We are training monkeys to control their own avatar using brainwave activity," Nicolelis says.

Other work has allowed primates to remotely move robotic arms, and, in humans, electrode implants have helped generate synthetic vocalizations and mentally move computer cursors. Yet other efforts seek to reroute neural signals via wearable machine interfaces around the severed spinal cord to reconnect functional bodily muscles back to the brain. The seamless and complete transfer of consciousness into another biological body envisioned in Avatar is bounds beyond what is presently realizable, however. "It's pretty far-fetched," Nicolelis says.
Cameron's Sci-Fi Sci-Tech
Two Part Article
By SFMZ Webmaster

Throughout his film career, Cameron has employed popular futuristic visions including time travel, interstellar journeys, cybernetics, and others. Once again he is bringing radical science and technologies into his latest futuristic film project, Avatar.

I recently read an article by Ian Stewart of bbc.co.uk titled 'Welcome to the world of sci-fi science.' It's an interesting article exploring real science in science fiction.

But it is a broader view regarding the science fiction mentioned, and I wanted to focus this article theme more specifically to Avatar and Cameron's sci-fi scitech.

So I gathered the science and technologies used by Cameron in Avatar to explore how real science applies. However, I am a corporate professional by day and a web designer by night, so nowhere in those titles will you find any level of scientific expertise. I am fascinated by science and an avid reader of articles focused on science, but I would rather not venture into an arena by offering my input that will result in making me look like a complete sci-tech ignoramous. So I researched for the real science answers or theories contributed by the experts.
Avatar Sci-Tech Part One: The Psionic Link

The whole premise of controlling another being (avatar) is centered around Cameron's use of the Psionic Link, which is a popular concept used in other fictional media such as the Star Trek universe, Dungeons & Dragons, and Starcraft to name a few. And from the first Avatar trailer, it appears he maintained this process in order for humans to take control of the test tube Na'vi.

Cameron explains in the scriptment, "Using psionic link technology, the human controller can remotely control the avatar body out in the wilds of Pandora. The controller receives all sensory input, and provides all motor control to the body.

Essentially, the controller lives through the avatar, and is completely unaware of his own body while linked. Each avatar is genetically keyed to its respective human controller. The human volunteer then becomes a controller. His head is fitted into a helmet-like device... a psionic link interface which senses and transmits his mental energy, as well as filling his brain with the return signal. This is usually called, simply, the Link.

He is under the link because he is spending the voyage linked to his avatar body which is nearby in its own container. Like two twins in the womb they are communing at a deep level of pre-conscious intimacy, with the results that the avatar's brain has been imprinted with the patterns of Josh's cerebral cortex. The biological equivalent of initializing the hard-drive in a computer."

That's a pretty intriguing explanation if you ask me. However, the believability speed bump I hit while reading this is the phrase, "transmits his mental energy." My perception on this is he's talking about a person's Will to interact with their environment. If we need to move our hand to scratch our head, with a mere thought, we carry out that action. We have the Will to command our body and appendages to manipulate external (animate or inanimate) objects that are within our physical reach. Or the ability to throw something at objects beyond our physical reach.

The big question for me is, can this 'mental energy' or ability we have to control our physical bodies be converted to bits and bytes? If it can, then the transmitting factor is easily believable considering we do that today with our digital packets of info to control today's current tech-works. However the big difference is we control the technology externally only. We digitally control the IPod to play our tunes, we don't 'become the IPod.'
What the experts say:

John W. Campbell proposed the term "psionics", from psi (psyche) + electronics (machine), which implied that the paranormal powers of the mind could be made to work reliably. Campbell is credited with shaping the so-called Golden Age of Science Fiction.

Isaac Asimov called Campbell "the most powerful force in science fiction ever, and for the first ten years of his editorship he dominated the field completely." In the 1950s, he wrote the "Hieronymus machine," which could supposedly amplify psi powers. He published many stories about telepathy and other psionic abilities.

Of all the Cameron sci-fi science themes explored, the Psionic Link was the most difficult to research and what I could find seems less satisfactory. There are sites dedicated to Psionics such as psionicsonline.net [Link no longer available], but most of them were focused more on honing the powers of the mind rather than the science of 'hooking up' mind control to a technical interface.

In regards to any resources to the specific term 'Psionic Link', my search came up short. There was one article I found by Joey Plazo of psychic101.com that examines a physical device or software known as Radionic that is used to 'capture' mental energies.

Mr. Plazo reports, "Radionic devices work by capturing a desired thought and releases it into the environment through a powerful mix of symbols. When you scribble sigils on paper or twist the dials on a psionic box, you create physical representations of your desire. Furthermore, the act of scribbling or twisting releases ENERGY. It is that energy that suffuses the thought. From there on, the radionic device magnifies your energy-charged desire.

Do radionic devices really work? From experience, it's a hit-miss thing. Radionic devices DO work and they work WELL if and only if you can pour laser-like concentration in the few minutes you use it. After that, you can let the machine do the job without a thought on it. Of the two forms of radionic devices (the physical boxes and the software programs), I'd nod my head to the software flavors. They are far more versatile in that they allow you to suffuse pictures, words, symbols and "rates" into one coherent session."

From the lack of resources available (at least online), it would appear that Cameron's Psionic Link concept is too advanced to apply to today's research and theories. In fact, at the site psionicsonline.net, they state that it is an undiscovered science, and education regarding Psionics is no where near complete.
Avatar Sci-Tech Part Two: Cloning an Alien Entity
Cameron's description of his Avatars: "Humans cannot live on Pandora without breathing gear, because the atmosphere is toxic. Lethal levels of ammonia, methane and chlorine. The Consortium is trying to bridge the cultural gap with the aboriginal population, which has been difficult to communicate and negotiate with.

They have recently started a program called AVATAR. They take DNA from a Na'vi, and from a selected human volunteer. On Earth, in company genetics labs, they create an in-vitro embryo, which is a genetic composite of the alien and human donor. The recombinant embryo is grown in-vitro during the flight to Pandora, which takes 3 years (ship-time/ 5 years Earth time... it's a relativity thing). In that time it reaches near adult size, since the locals mature fast.

When it is "born" (or more properly de-canted) as a post-adolescent, it looks like a Na'vi, and can live comfortably on Pandora, but it has enough human neurophysiology to be used as an Avatar, or surrogate body. The human volunteer then becomes a CONTROLLER. Using PSIONIC LINK technology, the human controller can remotely control the avatar body out in the wilds of Pandora."

Well . . . the first and most blatantly obvious obstacle to exploring the possibility of cloning an alien is first we need to get our hands on one . . . . or at least it's DNA if that is the process that can be applied to cloning an alien.

This particular Cameron sci-fi science exists in tandem with the Psionic Link mentioned above. As I had explained in part one, resources on the Psionic Link concept were scanty at best. But to indulge these series of articles, let's entertain the notion that a Psionic Link may surface as real science sometime in the future.

Naturally, preliminary experiments may likely include achieving remote mind control of the less intelligent critters of Earth such as primates. Their physiology is similar to ours, so it may increase the chances of a successful mind control hook up. From the visuals of Avatar we have seen so far of the Na'vi, it wouldn't be a large stretch of the imagination to assume that their physiology may be even closer to ours than Earth's great apes. Except for the whole breathing ammonia/methane/chlorine cocktail part, the Na'vi have all the signature visuals of an advanced hominid.
What the experts say:

If you can accept that logic, the prelude above validates the premise of why we would need to clone these particular aliens. We already know that cloning is possible when scientists successfully cloned the famous Dolly the Sheep in 1996.

The test tube Bovidae, considered a landmark accomplishment in science and at the same time the ethics of cloning was fiercely protested, died at the age of six from a progressive lung disease in 2003 (rest in peace, Dolly).

Now here comes the tricky part, the scientists in Avatar must not only clone an Alien Being successfully, they must also throw it's DNA and the human host's DNA in a blender, select Purée, and whip up a HUMAN and NA'VI hybrid , Cameron's Avatar. Or for a groan inducing pun - a HUM'VI.

But life is stranger than fiction, even today's science non-fiction produces bizarre results. For example, scientists successfully created a hybrid clone in 1999 - from a man's leg and a cow's egg (these scientists must have been Dr. Suess fans). Granted it was just a hybrid embryo, but nevertheless, it is one step closer to the possibility of mixing human's and alien's DNA to create our beloved Hum'Vi.

Even more controversial, is the concept of a Human-Chimp hybrid clone, popularly nicknamed the humanzee. And at the center of this controversy is Professor Richard Dawkins who suggests that a human-chimp hybrid would change the way we see the world and it would break down the species barrier.

It makes my head swim trying to grapple all the thorny issues of discovery verses morality. So I'm going to keep this light and quote one of his readers who sums it up with this sardonic glib, " . . . as to the uselessness of a hybridisation between a human and a chimpanzee, we have plenty of half-wits and half trolls to keep our scientific curiosity satisfied." This is such a heated issue that Bills in the U.K., U.S., and other countries, are being proposed to ban human-chimp hybrid cloning.

To conclude, I think the scientific challenge of cloning an Alien/Human hybrid would be less of an obstacle than the morality obstacle, even one or two centuries from now. The level of scientific advancements would have to make a perpendicular incline proportionate to a (liberated or degraded, take your pick) moral stance decline.