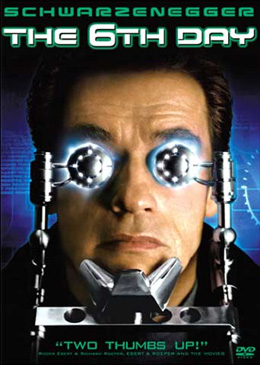 CLONING SCI-FI
Stories of genetic engineering, usually filled with the moral and ethical ramifications of people "playing god" and creating people

The most popular rumor to arise from this form of fiction is that cloned people cannot have souls as they were not created "in God's way". Gives authors plenty of room to ponder the good vs. evil plotlines, featuring cloned people as the bad guys.

The entire plot of the feature film The Sixth Day starring Arnold Schwarzenegger evolves around the above mentioned good vs. evil/cloning theme.
COLONIZATION SCI-FI

Colonization is the act where life forms move into a distant area where their kind is sparse or not yet existing at all and set up new settlements in the area.

Colonisation applies to all life forms in a sense though it is most often used in reference to insects and humans. Insect colonisation varies from species to species though it most often involves a queen setting out from its parent colony and establishing a colony of her own at a suitable location.

Human colonisation is not to be confused with colonialism or imperialism, as colonisation is a broader category, encompassing all large-scale immigrations of an established population to a 'new' location, and expansion of their civilisation into this area.

This process may or may not victimise an indigenous population (depending first on whether there is any indigenous population to victimize).
COMMUNALNESS SCI-FI

Communalness is a specialized term and subgenre, involving a human future with relationships and communities 'boosted' into enhanced consciousness by cybernetic or other means.

The namesake town in Frank Herbert's novel The Santaroga Barrier has achieved a kind of drug-induced unity. The disciples of V.M. Smith in Robert Heinlein's Stranger in a Strange Land achieve this (along with impressive powers) through learning to speak Martian.
CROSS-GENRE SCI-FI
Defies distinction between sci-fi and other genres

Cross-genre stories defy easy distinctions between science fiction and other genres, such as fantasy ("if it's psychic power, it's science fiction; if it's magic, it's fantasy").

Regarding film or television, the Underworld film trilogy could be considered cross-genre, the warring factions are Vampires and Likens (Werewolves), but fictional high tech weapons are used. Kevin Grevioux, Underworld writer and a background in genetic engineering, stated that he used science as the basis for the creatures. He created a virus, which is the reason how werewolves and vampires have become.
CYBERPUNK SCI-FI
Noted for its focus on "high tech and low life" and taking its name from the combination of cybernetics and punk

These tales are typically set on Earth, and involve a hacker immersed in a cyber-world, interacting (both on line and physically) with similar people.

It's often set in a high-tech, often bleak, mechanistic and futuristic universe of computers, hackers, and computer/human hybrids.

Characters are sometimes modified to 'jack' their brain directly into cyberspace. It features advanced technology such as information technology coupled with some degree of breakdown in the social order.

Classic cyberpunk characters were marginalized, alienated loners who lived on the edge of society in generally dystopic futures where daily life was impacted by rapid technological change, an ubiquitous datasphere of computerized information, and invasive modification of the human body.
Cyberpunk often encompasses nanotechnology, cyborgs, androids, virtual reality, and/or a warning as to what could possibly go wrong if technology falls into the wrong hands. Humans may have built-in computer jacks or software ("wetware"), and spend considerable time "living" in a virtual environment, as in The Matrix (starring Keanu Reeves).

When mainstream fans think cyberpunk, likely they would think The Matrix, but perhaps better examples of this subgenre would be Ghost in the Shell and Johnny Mnemonic (also starring Keanu Reeves). Johnny Pat Cadigan's Tea from an Empty Cup is another literature example of cyberpunk.

Though it contains no synthesized worlds, it's often stated that Ridley Scott's Blade Runner is the father of cyberpunk in cinema, or at the very least, an early example. Blade Runner was adapted to film from Phillip K. Dick's novel "Do Androids Dream of Electric Sheep?"
SUBSETS

CYBERSPACE SCI-FI: Cyberspace as a subgenre is very similar to 'cyberpunk,' though broader in form and style. The subgenre was pioneered by Bruce Bethke and William Gibson, who coined the term "cyberspace" in Neuromancer.

This subgenre involves characters interacting, not just on line, but fully immersed within a vast worldwide 'virtual reality' medium. Other such tales involve hackers who use more ordinary means of networking.

POST-CYBERPUNK SCI-FI: Post-cyberpunk describes a narrow and indistinct subgenre. These stories break with the tropes (such as cynical young hackers in garish night clubs) that dominated the cyberpunk trend.

Usually set on Earth, these stories make a conscious effort to be more positive. One example is Greg Bear's novel Queen of Angels. Queen of Angels describes our world just prior to the binary millennium (2048 AD) through several parallel (and to some degree interlocking) tales.

Disney's feature films Tron 1982 and Tron Legacy 2010 could be considered a variant of both cyberspace and post-cyberpunk categories since its cyber universe is clearly digital (animated and neon infrastructure) as opposed to the life-like constructed world of The Matrix.