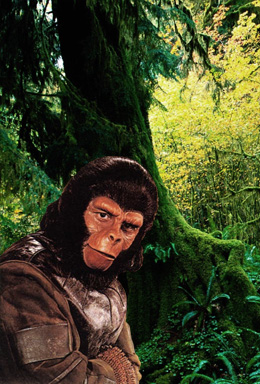 RESTORED EDEN SCI-FI

Restored Eden tales are set in the mid-to-far future, here on Earth. In this subgenre most of humanity has gone on to other worlds, and the Earth has healed (all or in part, and naturally or with subtle help) into a renewed paradise.

The Planet of the Apes film franchise could fall within this category in some ways. Granted there is a different Earth primate that is the dominate species, but they created a more holistic style of life living in a forest/jungle type enviroment with little or no technology.

Arthur C. Clarke's novel Against the Fall of Night decribes the technological redoubt of Diaspar and the natural haven of Lys. Clifford Simak's novel City populates the wildlands of a future Earth with speaking dogs and intelligent ants.
ROMANCE SCI-FI
Fiction which has elements of both the science fiction and romance genres

Planetary Romance is an interstitial subgenre that shades into the vast Romance genre. In this case, the love story is embedded in futuristic (or fantastical) technology, and the striving lovers can be separated by more than Earthly distances.

Edgar Rice Burroughs' "Barsoom" series (and Disney's feature film John Carter of Mars) features luscious Martian princesses, while Andrew M. Greeley's novel Final Planet does a good job of fusing these often disparate literary styles.
RELIGIOUS SCI-FI
Science Fiction or Fantasy about religion

Futuristic stories containing a distinct religious overtone or message, which gives meaning and motivation to their lives, although this isn't always explored in much depth. Since the genre deals explicitly with humanity's understanding of itself in the face of great technological and social change, in a certain sense most SF grapples with questions of a spiritual or religious nature.

Like any form of literature, SF can be used both to denounce and promote religious ideologies, and SF authors' opinions on the subject of religion are as diverse as their writing. As with any topic in SF, when religious themes are present they tend to be investigated very deeply. The reader is invited to step outside the conventional understanding of the subject and consider wider possibilities.

As an exploratory medium, SF rarely takes religion at face value by simply accepting or rejecting it. A few subgenre stories focus on other human faiths, whether current, in the future, or via time travel. In the feature film The Book of Eli, the plot centers around the last known Bible, set in a post-apocalyptic background.

The main characters in John Wyndham's classic "The Chrysalids" are ruled by their religious beliefs - and are also castigated by the very same belief system. Kay Kenyon's well-thought-out novel The Braided World describes a strange alien priesthood (and biology), which the human visitors must struggle to understand.
SUB-SETS

CHRISTIAN SCI-FI: Stories which features an explicitly Christian protagonist. Anthony Boucher's short story "The Quest for St. Aquin," and the novels of Kathy Tyers, are good examples. (Such tales are common enough to have their own subgenre, yet they're unusual in the SF genre, especially compared to the English-speaking Christian population. The reasons are open to debate.)

CLERICAL SCI-FI: Clerical subgenre tales involve an organized priesthood, such as a religious order, of any human or alien religion. Set on Earth, Walter Miller's novel A Canticle for Leibowitz chronicles one sincere and long-lived order. Frank Herbert's Bene Gesserit (in his "Dune" franchise) dominates human history, yet without profound expressions of individual faith.

HINDU SCI-FI: Hindu tales feature character(s) of that faith. (India has a growing native-languages SF market, however very little has been translated into English.)

ISLAMIC SCI-FI: Islamic tales center upon characters, and/or entire societies, of that faith. Donald Moffitt's novel A Gathering of Stars features an interstellar Muslim civilization, while in Nancy Kress's novel An Alien Light the derivation is more subtle. Ahmed Khan's recent anthology A Mosque Among the Stars has a fine variety of stories.

JEWISH SCI-FI: Jewish SF features characters of that faith. WR Yates's novel Diasporah is set in a huge orbital colony which has replaced a destroyed Israel.

THEOLOGICAL SCI-FI: Theological works often present explanations or commentary on religion and religious ideas. These vary from simple refutations of religion as primitive or unscientific, to creative explanations and new insights into religious experiences and beliefs (e.g. Gods as aliens, prophets as time travelers, metaphysical or prophetic vision gained through technological means, etc.).