CARBON-FREEZING CHAMBER: Four armor-suited stormtroopers stand at the ready in the large chamber, which is filled with pipes and chemical tanks. In the middle of the room is a round pit housing a hydraulic platform. Darth Vader and Lando stand near the platform.

VADER: This facility is crude, but it should be adequate to freeze Skywalker for his journey to the Emperor.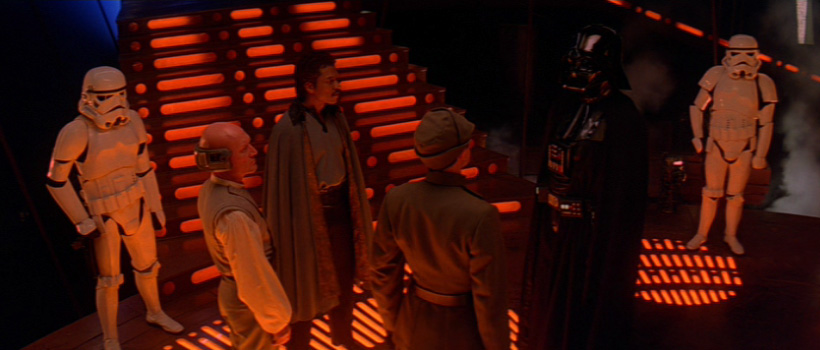 An Imperial soldier appears.

IMPERIAL SOLDIER: Lord Vader, ship approaching. X-wing class.

VADER: Good. Monitor Skywalker and allow him to land.

The soldier bows and leaves the chamber.
LANDO: Lord Vader, we only use this facility for carbon freezing. If you put him in there, it might kill him.

VADER: I do not want the Emperor's prize damaged. We will test it... on Captain Solo.

Lando's face registers dismay.
BESPIN SYSTEM: Luke's X-wing moves through the clouds as it nears the city.
Encountering no city guards, Luke scans the display panel with concern.
CARBON-FREEZING CHAMBER: There is a great activity on the carbon-freezing platform.

THREEPIO: If only you had attached my legs, I wouldn't be in this ridiculous position. Now, remember, Chewbacca, you have a responsibility to me, so don't do anything foolish.

Six Ugnaughts frantically prepare the chamber for use. A special coffinlike container is put in place. With Boba Fett in the lead, a squad of six stormtroopers brings in Han, Leia and Chewie. Strapped to Chewie's back, with only his head, torso, and one arm assembled, is Threepio.
Threepio's head faces the opposite direction from Chewie's and the droid is constantly twisting around in a vain effort to see what is happening. His one attached arm is animate and expressive, intermittently pointing, gesturing, and covering his eyes. The remaining pieces of his body are randomly bundled to the Wookiee's back so that his legs and other arm stick out at odd angles from the pack.
HAN (to Lando): What's going on... buddy?

LANDO: You're being put into carbon freeze.
Boba Fett moves away from the group to Darth Vader.

BOBA FETT: What if he doesn't survive? He's worth a lot to me.

VADER: The Empire will compensate you if he dies. Put him in!
Realizing what is about to happen, Chewie lets out a wild howl and attacks the stormtroopers surrounding Han. Within seconds, other Imperial reinforcements join the scuffle, clubbing the giant Wookiee with their laser weapons. From the instant of Chewie's first move, Threepio begins to scream in panic while he tries to protect himself with his one arm.

THREEPIO: Oh, no! No, no, no! Stop, Chewbacca, stop...!

The stormtroopers are about to bash Chewie in the face.
HAN: Stop, Chewie, stop! Do you hear me? Stop!

THREEPIO: Yes, stop, please! I'm not ready to die.

Han breaks away from his captors. Vader nods to the guards to let him go and the pirate breaks up the fight.
HAN: Chewie! Chewie, this won't help me. Hey!

Han gives the Wookiee a stern look.

HAN: Save your strength. There'll be another time. The princess - you have to take care of her. You hear me?
Han turns to Princess Leia. They look sorrowfully at one another, then Han moves toward her and gives her a final, passionate kiss.

LEIA: I love you!

HAN: I know.
Tears roll down Leia's face as she watches the dashing pirate walk to the hydraulic platform. Han looks one final time at his friends - and then, suddenly, the platform drops. Chewie howls. Leia turns away in agony. Lando winces in sorrow; it makes a life-changing impression on him. Instantly, fiery liquid begins to pour down in a shower of sparks and fluid as great as any steel furnace. Holding Leia, Chewie half-turns away from the sight, giving Threepio a view of the procedure.
THREEPIO: What... what's going on? Turn round, Chewbacca, I can't see.

Chewie is in no mood for technical discussion; he gives the droid an angry glance and bark.
A huge mechanical tong lifts the steaming metal-encased space pirate out of the vat and stands him on the platform.
Some Ugnaughts rush over and push the block over onto the platform. They slide the coffinlike structure to the block and lift the metal block, placing it inside. They then attach an electronic box onto the structure and step away.

THREEPIO: Oh... they've encased him in carbonite. He should be quite well-protected . . if he survives the freezing process, that is.
Lando kneels and adjusts some knobs, measuring the heat. He shakes his head in relief.
VADER: Well, Calrissian, did he survive?

LANDO: Yes, he's alive. And in perfect hibernation.
Vader turns to Boba Fett.

VADER: He's all yours bounty hunter. Reset the chamber for Skywalker.
IMPERIAL OFFICER: Skywalker has just landed, my lord.

VADER: Good. See to it that he finds his way here. Calrissian, take the princess and the Wookiee to my ship.
LANDO: You said they'd be left in the city under my supervision.

VADER: I am altering the deal. Pray I don't alter it any further.

Lando's hand instinctively goes to his throat as he turns to Leia, Chewie, and Threepio.
CORRIDOR: Luke and Artoo move carefully down a deserted corridor, they hear a group of people coming down a side hallway.
Boba Fett enters from a side hallway followed by two guards pushing the floating, encased body of Han Solo, two stormtroopers follow. They disappear into a hallway and Luke follows them.
Artoo comes up from behind talking to Luke with his beeps, he motions him to stay back. Luke sees the coast is clear and advances forward.
Suddenly, Fett appears from a hallway crevice and fires a deadly laser at Luke, which explodes to one side and tears up a huge chunk of wall. Luke rushes to a side hallway, but by the time he reaches it, Fett, Han, and the guards are gone. A think metal door blocks the passage.
Luke turns to see Leia, Chewie, Threepio, and Lando being herded down a second hallway by several other stormtroopers.
Leia turns just in time to see Luke.

LEIA: Luke! Luke, don't - it's a trap! It's a trap!

Before she can finish, she is pulled through a doorway and disappears from sight. Luke races after the group, leaving little Artoo trailing behind.
ANTEROOM: Luke runs into an anteroom and stops to get his bearings. Leia and the others are nowhere to be seen.
Behind Luke, Artoo scoots down the corridor toward the anteroom when suddenly a giant metal door comes slamming down, cutting off Luke's exit. In the Anteroom, Luke cautiously walks forward among hissing pipes and steam. Seeing an opening above him, he stops to look up. As he does, the platform he stands on begins to move.